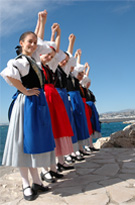 The group NICE LA BELLE, which belongs to the National Confederation of French Folklore Groups, was created in 1956 by Françis Gag on the request of Mr Jean Medecin, who at the time was Mayor of Nice.

The idea of Françis Gag was to form a bright and colourful troupe, representative of local customs and traditions.
In 1975, Françis Gag passed the reins of Nice La Belle to his daughter-in-law, Francine. She has ever since presided over the forty odd, non professional members and musicians with the same enthusiasm.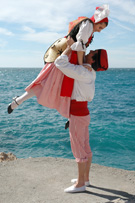 The task of Nice La Belle is to maintain a bright and colourful aspect of their City to all publics near and far, inspite of the reputation of folklore too often brought into disrepute.

The costumes worn by the members of the group change according to the origin of the dances. Light costumes for the fishmongers, florists and farmers. Heavier clothes for those living in the mountain villages and embroidered materials for the court dances which are a replica of those worn in ancient times.

The same authenticity has been brought to the repertoire in which figures Maypole dances, traditional work dances and many others which were discovered by Françis Gag himself whilst visiting tiny isolated mountain villages and larger towns throughout the County of Nice.