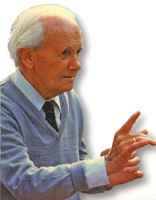 On the Saturday, May 28th 1955, in a restaurant on the seafront in Nice, an association called "l'Estocaficada" was celebrating the 50th anniversary of its foundation, under the Presidency of Nice's Deputy Mayor, Mr Jean Médecin. For this occasion, Françis Gag, who was already well-known as a theatre director, organised the evening with dancing and singing to accompany the meal. At the time, Nice La Belle was only a dream for Françis Gag
but the Mayor was so impressed by what he had seen that he officially asked that a group be formed to represent Nice throughout the world.
Thus, Françis Gag's dream came true, and for many years he enjoyed telling the story of Nice La Belle's creation after the success of the evening at l'Estocaficada. At the same time he liked to remind everyone of those who helped him at the beginning, including a good friend and renowned poet, Louis Genari. As for the costumes, with the help of another old friend, Mossa, who at the time was curator at the Chéret Museum, they prepared models of the costumes of the fishermen, fishmongers, peasants, of the middle class "bourgeois", of the shepherds and shepherdesses from La Brigue and all this thanks to the albums of the painters Trachel, Barberi and Delattre, whose portraits dated back to XIX century. Two other friends, Emile Delpierre, composer and orchestra leader, who directed the musical part of the group and Paul Durozio, Master of Ballet at the Nice Opera, who directed the dance part, both helped enormously in the research for authentic songs and dances from the seafront towns, right back to the high mountain villages in the Alps.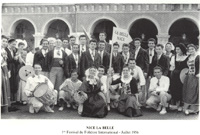 So, the Saturday, July 14th 1956, some 14 months after the banquet at L'Estocaficada, NICE LA BELLE was born, with the support of the committee in charge of all the events in the City of Nice. At the first International Folklore Festival held in Nice, "Nice La Belle" paraded proudly down the Avenue de la Victoire to perform on the stage of the Theatre de la Verdure and was given a standing ovation by the Niçois public.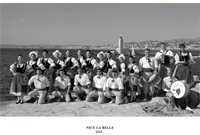 According to Jean Médecin "The City of Nice then owned a group worthy of its own standards" and from there on they travelled far and wide, at first locally, and as their reputation spread, they followed it all over France and finally danced all over the world.